Salmon X Ultra 3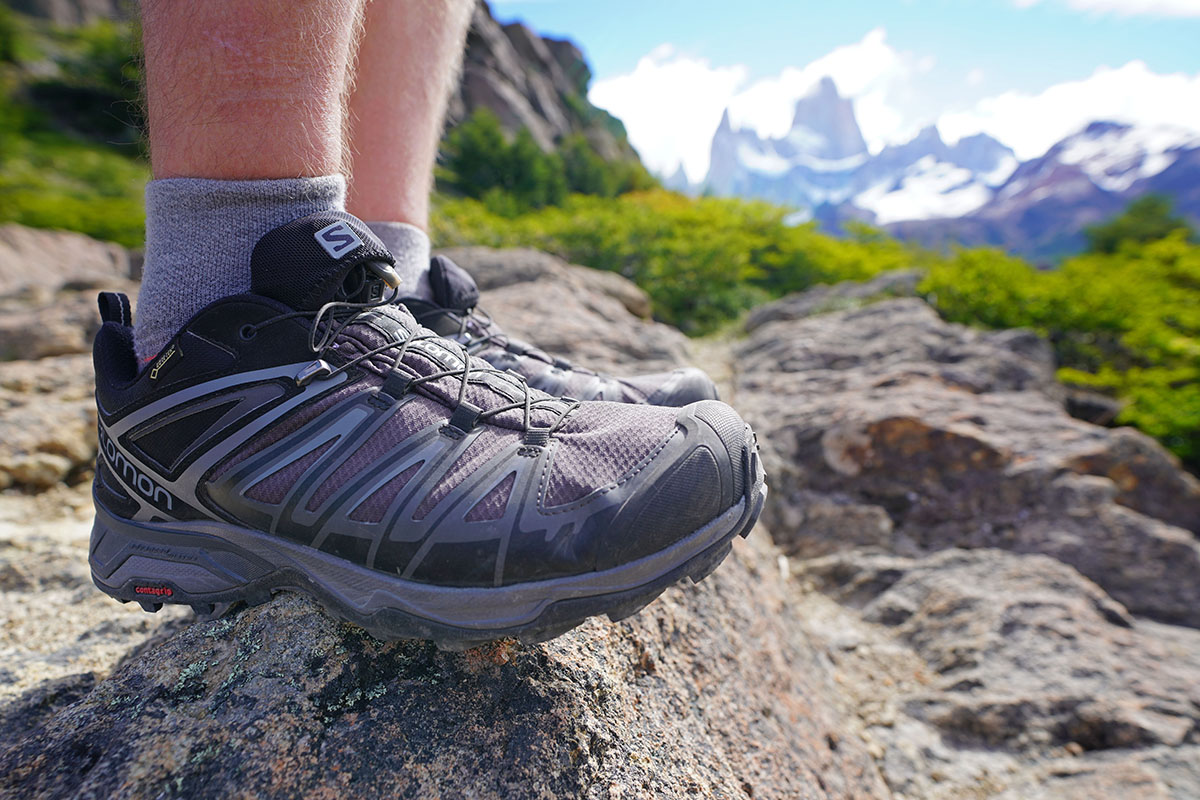 Salomon's X Ultra line of hiking footwear is one of our long-time favorites for all types of uses from day hikes to lightweight backpacking trips. The new "3" was released in late 2017, and Salomon mostly stuck to the original script—changes include tweaks to the lacing system and a redesign of the outsole to improve downhill traction. We've put the shoe through everything from early winter conditions in the Pacific Northwest to summer in Patagonia, and feel Salomon has again hit the mark. It's light, nimble, grips well on just about any surface, and will hold up through extended rough use. Below we break down the X Ultra 3's comfort, weight, traction, waterproofing, durability, fit, and more. To see how the X Ultra 3 stacks up to the competition, see our articles on the best hiking shoes and hiking boots.
Performance
Comfort
My first impression when slipping on the X Ultra 3 was that it felt a lot like a supportive trail-running shoe. It's lightweight and moderately flexible, but also has nice padding in the collar and tongue, and the sculpted insole provides enough cushion and support to feel "just right" straight out of the box. The shoe is thinner underfoot than a traditional hiker like the Merrell Moab 2 or Keen Targhee III, but I never found myself wanting more isolation from the ground even over rough terrain and with a loaded down 38-liter pack. All told, the X Ultra delivers what I want for day hiking and lightweight backpacking: the feeling of a trail runner but with the added comfort and protection that you get from a hiking-specific model.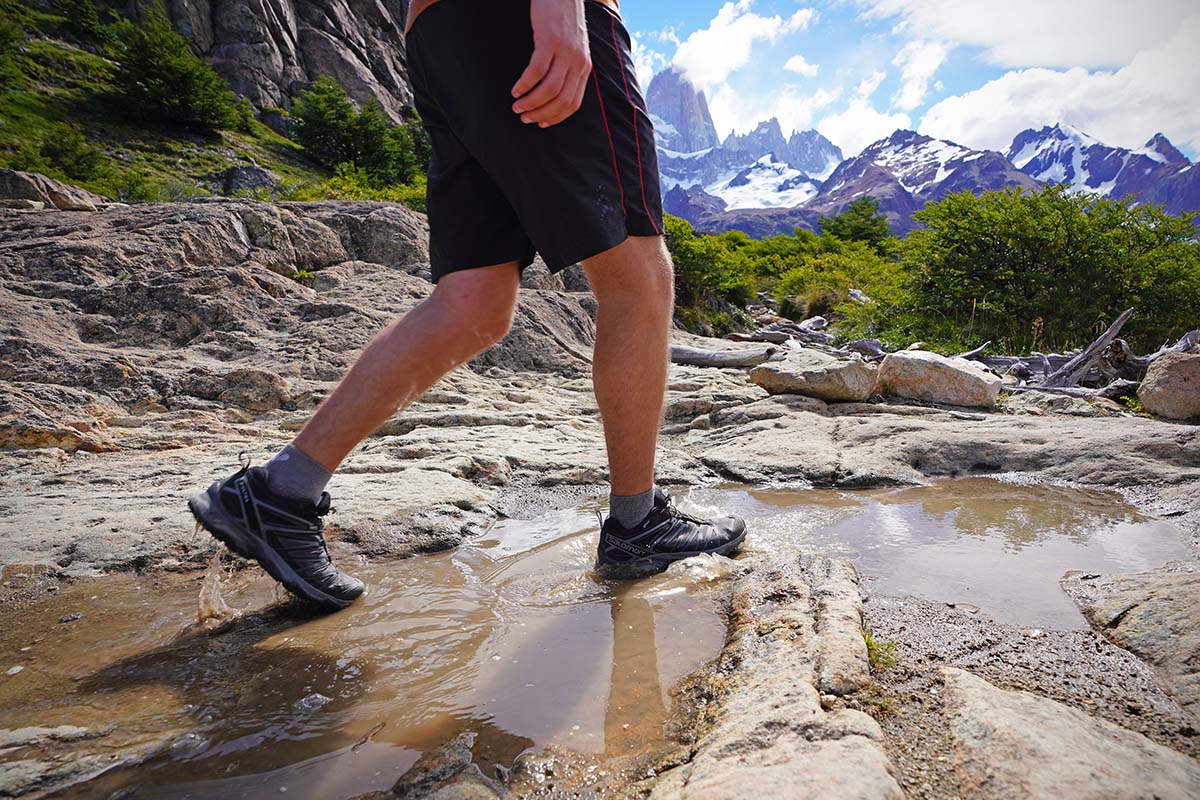 Weight
The X Ultra's running shoe inspired design makes it one of the most aggressive hiking shoes on the trail. And the scales confirm that feeling: my men's size 9 Gore-Tex model checks in at 1 pound 10 ounces. For perspective, that's almost exactly the same as a waterproof trail runner like the Brooks Cascadia 12 GTX (1 pound 10.6 ounces), and it undercuts most of the hiking shoe market. Popular designs like the Merrell Moab 2 WP (2 pounds 1 ounce), Keen Targhee III Low WP (1 pound 14.8 ounces), and The North Face Ultra 110 GTX (1 pound 15 ounces) all weigh significantly more and feel clunky by comparison. You can save about 1 ounce by opting for the non-waterproof X Ultra 3 shoe, and the mid-height boot version is a standout in the waterproof hiking boot market at 2 pounds 1.4 ounces (also a men's size 9).
Traction
Overall, changes from the X Ultra 2 to 3 were fairly modest, but Salomon did redesign its outsoles for improved downhill traction. This is seen primarily at the heel, which trades solid rubber for a series of gill-like cutouts to bite into the ground. Admittedly, we didn't feel the old X Ultra 2 was ever really lacking in grip, but we've nevertheless been pleased with the new Contagrip outsoles. They've performed well in soft mud, hardpack dirt, and a decent amount of snow travel. And importantly, the rubber compound hasn't deteriorated or chipped away even after hiking on granite.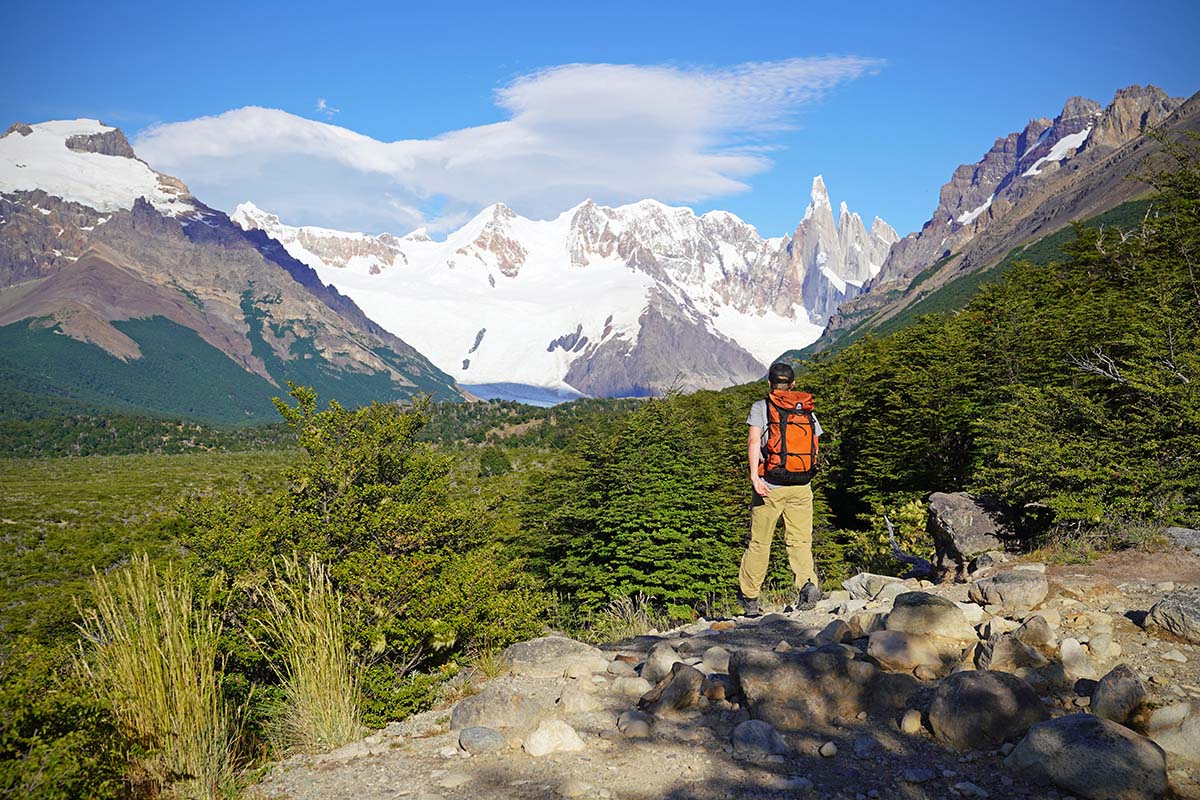 Stability and Support
The X Ultra 3 won't supplant a technical off-trail hiking or mountaineering boot in your gear closet, but it offers enough support for just about any day hiking or lightweight backpacking adventure. The shoe is pretty flexible underfoot, but the low-profile midsole and stable platform (Salomon refers to this as their "Advanced Chassis") offers enough piece of mind for rocky trails. We've had our various X Ultras loaded down with 35 pounds of backpacking gear and have never had issues with rolled ankles. If, however, you prefer a stiffer boot for extended climbs or for carrying a heavy pack, we recommend upgrading to Salomon's Quest 4D 3.